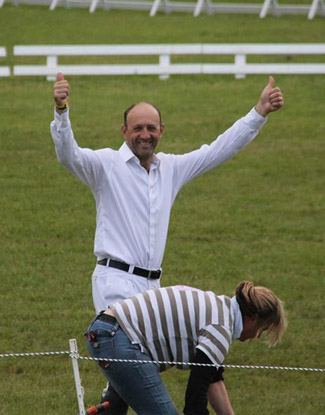 Today has been a very good day. To cut a long story short Alfie and I won Saumur CCI3star.
It's been a long road and a huge team effort but we've done it. Alfie trotted up well this morning and then jumped a great clear round (one of only three in the class) to win the event. I couldn't be more pleased with him, or for the Prentices, or for my whole support team.
It's Alfie's first three star but he felt like an old pro cross country, looking for the flags, and what is very exciting is there is much more to come on the flat. I couldn't be more pleased with him. I came here hoping for a top 5 placing but knowing he had the potential for more so I'm pleased, very pleased.
I shouldn't forget Tommy who also went well, just rolling one pole in the 2 star to end up 17th out of more than 90 starters.
We are now on the ferry after the mad dash from the event and will get a sleep on the boat before getting home mid morning. I have a busy day ahead of me riding the horses for Tatts before we head out at about 8pm for the 2am boat to Ireland on Tuesday morning.
Let's hope the good luck continues.
Cheers,
Bill
Posted 26th May – Photo www.uptowneventing.co.uk