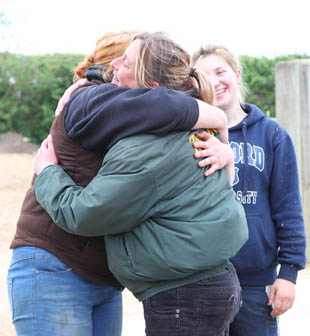 Well, we made it home at just after 8.00am on Monday. A beautiful English summer morning greeted us and after giving the horses a chance to chill in their boxes for an hour or so they all went out in the paddock to get their heads down, have some grass and feel the sun on their backs. All the horses seem to have come out of their runs well and be in good order which is great news.
I have yet again been overwhelmed by the wonderful messages I've received over the last few days, so thank you one and all. It's been a great few weeks – although I do want to say how sad I'm feeling for the syndicate who own Alex, as they've had such rotten luck with him, first with the cancellation of Le Lion due to weather after the dressage and now his fall (no fault of his, just one of those unfortunate things) in the water early on at Tatts – a sobering reminder of the ups and downs of eventing.
I want to give a special mention to Emily who has been holding the fort at home while we've all been away. It's never fun being the one left behind and she's done a good job, keeping things ship shape and looking after everything at Little Charingworth Stud.
We have a quiet couple of weeks at home now, time for me to crack on with some of the younger horses in their schooling and education – Lenny, Dotty and Gus – and also focus on preparing Tommy for Camphire, his three day event goal.
It will also be a time to get some jobs done around the place including repainting the stables – fun fun!
Cheers,
Bill
Posted 4th June