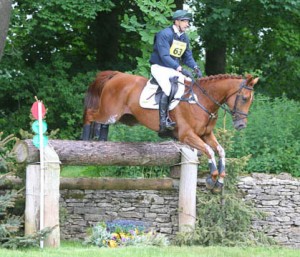 It was certainly a mixed day at Salperton today. It all started with two very good dressage tests from Alex and Tommy. They both scored well, with a 26 and 27 respectively.
The jumping phases were very typical for Salperton – up to height and quite technical. Tommy was a little bit fresh and turned spooky in the ring which resulted in an unusual 3 rails in the show jumping. We then proceeded to go cross country and at an off set double of houses we had a fall. He had gone well up until this point but presenting him to the first house, just before he was about to take off something made him spook to the left, his front legs then fell into the front of the jump, he lost his balance and fell on to his side. It's one of those days when you shouldn't read too much into it and just put it behind you.
Alex, on the other hand, had his best day so far. As I left the event it looked like he was going to win his section! He certainly seems to be getting a lot more confident when in the show jump rounds, and cross country he has always been very good with a great gallop. I'm really pleased for all Alex's owners as the last 6-8 months things really haven't gone to plan.
I'm back at Salperton tomorrow with Dotty and Monty, hoping all that goes well with the Novice and NRF for Monty.
Cheers,
Bill
Posted 22nd June