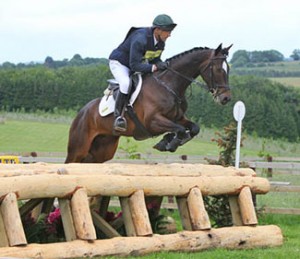 Dotty was out again doing another novice today and Monty did the novice regional final. Dotty continues to improve but I didn't give her the best of rides. I was feeling very sore this morning after my tumble yesterday and didn't do her justice in the dressage or show jumping, and so Salperton for her was just about getting a little bit more experience.
As the event was quite close to home, and Dotty was on early and Monty so late, Emily and I were able to go home in the middle of the day. Monty, who I've only had for about a week, went OK for a first outing. His dressage went well but he had two down in the show jumping and then did a very good cross country round. It was very much about getting to know him today and beginning to develop an understanding together. He seems to have good potential but I just need more time to develop a better partnership with him. So a good 'workman day at the office' and all about establishing the building blocks for the future with both horses.
We were fortunate with the weather over the weekend as the ground conditions were near perfect. The novice track was similar to the intermediate yesterday – up to height with a few meaty combinations. The fact that they dont go right down to the bottom of the big hill anymore makes it a better course.
I'm off to Stonar on Tuesday with Lenny, and then all systems go for Aachen with Silks  – I will be heading out with Taperz on Wednesday very early.
Cheers
Bill
Posted 23rd June