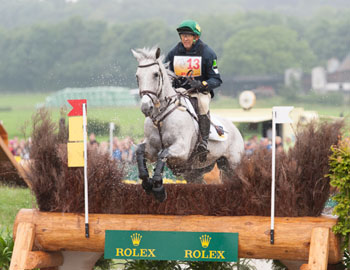 Today was not a good day – Silks and I ended up getting eliminated on course for three separate refusals. He just didn't really take me from the get go – the first run off was completely my fault and I'm furious with myself for not taking the long route as it was a very difficult combination and I was in good company with trouble at this first Rolex water complex. If you didn't jump in well the fence was an even tougher ask.
Silks jumped in well to the water but landed steep and I annoyingly got pitched forward he was then slow off my leg to the next element but jumped it and the rest is history – I'm furious with myself at this fence for letting him down as we should have gone long.
The next two faults were, however, down to him. He stopped at the top of a step off/bounce to log – very unlike him but, as I say, he was stuffy and not with me. Then he ran past at a corner in sight of the stadium so I had the walk of shame home.
I'm gutted as I feel like I let the team down and myself – but that's horses/eventing. I need to dust myself down, learn from it and crack on.
On a much more positive note Chris and his beautiful mare stormed home inside the time making the track look effortless – a truly class round and a credit to their collective skill and partnership. I'm thrilled for Team Burton and all his supporters. A great way for the mare to retire, with a great win.
I'm now trekking home with Taperz and George. I'm grateful to Team Tapner and especially George for her TLC to Silks this week in Aachen – Mel is off at Glastonbury so George kindly stepped in.
Tomorrow is a day getting sorted at home and we have a yard visit in the afternoon which is always entertaining.
Ursula does her first mini one day event tomorrow with Slipper and Toddy so let's hope she can at least end the day with a smile on her face, unlike me today
Cheers,
Bill
Posted 29th June – Photo Trevor Holt