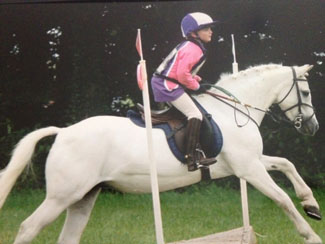 Ursula tackled her first one day event on Sunday at a great little mini event put on by the Beaufort Pony Club. It was the perfect first outing according to Jenny with no pressure and a beautifully presented mini cross country course. A lot of effort had gone in to presenting and roping the course and the kids felt like they were at a proper event.
The most traumatic element for Ursula was the dressage, but with the test thankfully remembered after much practicing on foot and with the dogs as substitutes for ponies she survived. Managing to remember the test – hurrah! The fun bits came next and both ponies and jockey coped well and came home with a ribbon to top it all off, running 9th – so a great first day out, topped off with ice cream!
I was sad to miss it as I was making my way home from Aachen and then preparing for a yard tour in the afternoon – which went well. I get to meet some lovely people at these events and the horses seem to enjoy being fussed over by people.
I have a week of training and getting organised ahead, with an Equestrian Australia team training day on Tuesday at the Unicorn Trust followed by dressage lessons and a trip to the gallops, before Buckminster at the weekend to give Tommy a confidence boosting run after Salperton.
Cheers,
Bill
Posted 1st July