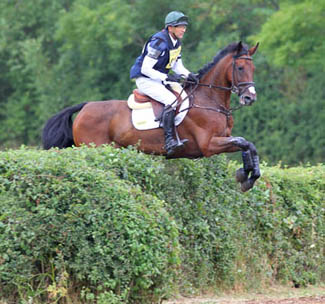 The second day at Aston seemed to be a little nicer weather wise as a nice breeze and some cloud cover took the sting out of the sunshine and provided a relief from the hot weather of the previous days. It was a relatively easy day with just Womble and Alfie doing their show jumping and cross country – although I did get up early and ride the intermediates before I left this morning, and Silks went swimming.
As usual Nigel has done a very good job of the ground with lots of watering, aggravating and sanding the landings. For Alfie and Womble it was an ideal first run after their Spring three day events.
Alfie went double clear, finishing 5th, and Womble had two down in the show jumping before going clear cross country. Womble had a couple down because he misread the first part going in to the double of uprights, which was a funny colour and seemed to create an optical illusion, especially for some of the younger horses. I tried a new bit cross country with Womble (thanks Mike J for the lend of it) and that worked well.
Overall I felt both the horses were more mature since doing their three days in the Spring. The cross country was a nice track with some interesting combinations. One that seemed to catch a few out was a hedge on four nice strides to a box/brush and then two forward strides to another box brush. It required forward, accurate riding and rode well but people came undone when they were a bit quiet or not accurate.
Tomorrow will see me back again with Tommy, Alex and Silver in the intermediate so I'm hoping the sun stays hidden, Nigel keeps up with the watering and that we have a good day out with the horses.
Tomorrow also sees Josh and Urssie at a little one day event, so let's hope they don't do better than me as happened last time we were all competing on the same day!
Cheers,
Bill
Posted 20th July