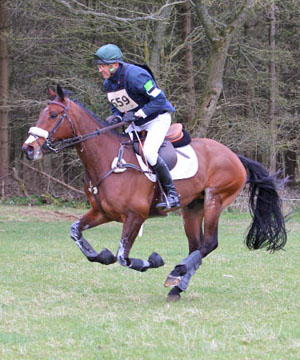 Well today was a really good day at Blair. It started off with Silks giving me a great ride cross country, initially thinking I was in the lead then realising I ended up in 3rd as their timings were messed up with the cross country time keeping. I was sure I was only one second over but I guess we will never know. It's all very tight at the top with 0.4 (one extra second allocated against me) of a penalty dropping me from first to third.
Still, it takes nothing away from Silks – he really stepped up to the job and jumped well around the track. He kept on his lines, galloping and jumping to the finish line. He was looking for the flags and fences today and did his bit – we had one tricky moment at the first water but he was clever and stayed true and thinking forward and jumped his way through with me on the buckle! He sometimes jumps a bit high over his fences which means we waste some time in the air but he always keeps galloping with his helicopter tail swishing away!
Alfie and Womble did the show jumping and cross country. Alfie jumped a great round and then I over rode a related line on the cross country and it was all he could do to keep his head and neck in between the flags – unfortunately half his shoulders stayed the wrong side of the flag. I galloped on, thinking I had done the fence, to find out I had been eliminated, so unfortunately we got an elimination due to rider error, very frustrating – he didn't deserve that as he jumped fantastically around the rest of the track.
The second big success today was getting some brakes on Womble. One of the issues is that when I go fast on Womble he takes too long to set up but today was different. He went the best cross country he has ever gone which was a great thrill. Unfortunately he went a little green on me in the show jumping at a double and we had two rails which cost us dear in the context of our ranking in the overall class, but I'm not that worried about his show jumping as he has a good jump and with a little more experience this will iron itself out.
Let's hope Silks gets a good night's sleep tonight and all goes well with the trot up and we can jump clear tomorrow afternoon and move back up the order again!
Cheers
Bill
Posted 24th August