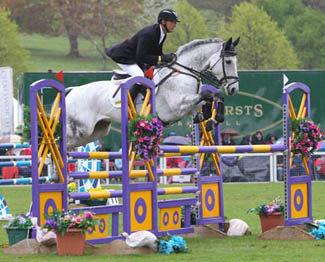 Well as I write this, good old Emily is typing up the blog and domestic goddess Alice is cooking up a storm in the living, while looking after her jack russell puppy Mabel. As you can tell, spirits are high on the way home from Blair.
Today was our least busy day with just Silks' trot up and showjumping to do. Going into the show jumping, he was just .2 penalties behind the leader, Tim Price but only in 3rd place. With this being his first CCI I was unsure how he would be, coming into this phase: if he would be really tired or his usual perky self. All I can say is he jumped a great clear round but, unfortunately, so did the other two. If any guy was going to win it I'm glad it was Tim -although Tim is not all perfect… as on Friday, when I was leading the dressage, he did throw stones at me!! All in all, for Alfie, Womble and Silks, Blair was a great event. For Alfie he felt as good as he did in Saumur; his dressage was just one of those things. With Womble I finally feel I've got the right brakes to go fast – thanks Hillary, and Silks is now officially qualified for Badminton and should have enough points to go. Looking back at this year, I've contested three CCI3*s, finishing 1st, 2nd and 3rd, probably my best season to date.
Thanks go to my owners, my team and, in respect of Silks, to Jenny for helping me create a fitness programme and management approach to get this result with him.
Cheers,
Bill
Posted 25th August