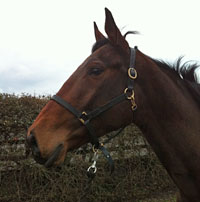 It was nice to get a late draw today, so unlike yesterday's 3am start, we didn't have to leave until 10am. The event was Llanymynech and the only one we brought to the event was Lenny, although we did sneak Toddy in to help keep Lenny happy. Ursula also came for a day out, and like so much of the summer this year, it was a lovely day.
Lenny did some nice canter work in the dressage but lacked some concentration whilst show jumping, having 4 down. I thought the BE100 cross country course was a very reasonable challenge and Lenny seemed to take that in his stride and produced a lovely clear.
Obviously with having a few poles down, I didn't go quickly cross country and the ground also was a little bit on the firm side. Lenny is off home for a few days to have some treatment done on one of his teeth but will probably have a few more runs before the end of the season, then he will be quite established at BE100.
Cheers
Bill
Posted 31st August