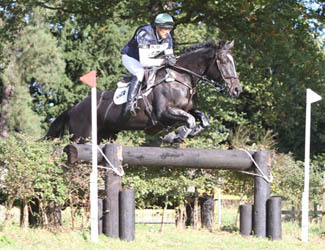 What a beautiful day for October. It's 2.15 and Dotty, Em and I are on the way home. All we had this morning was Dotty's CIC1* cross country. She was clear and the fastest time of them all. You can't do much better than that. The going was perfect, and the course ran over 5 minutes 15. Dotty cruised round the track very easily. The course had quite a few related lines, normally on a turn. Dotty is such a natural cross country horse that when you jump one fence she's always looking for the next.
She seemed like she finished the course with loads of running so she will be a horse that copes well as the courses get bigger and longer. It was a nice way to have her last run as during the second half of this year she has just kept improving and I think next year she will come on again in leaps and bounds.
After a week of letting her down at home Dotty will be on her holidays and earning a well deserved rest.
So a good day at the office – no rosettes but a good finish to the season for Dotty.
For the second weekend in a row I've had to leave the winning to Josh and Ursula who have yet again had a great weekend, this time team show jumping for the Pony Club at Bromyard, with the team placing first and second and Josh and Ursula picking up a handful of individual places as well. They are really enjoying the jumping and being out and competing – although I'm still not convinced that mummy's picnic isn't the top draw.
Now a few days at home and final preparations with Alex for Weston Park CCI2*, my last event of the season
Cheers,
Bill
Posted 6th October