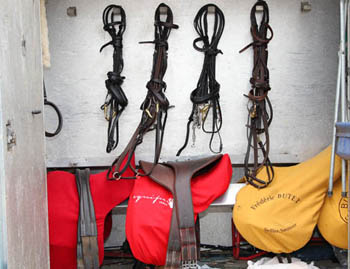 After a nice couple of days at home schooling the horses I'm now at Weston Park with Alex, and Cath is helping me out for a few days before Emily joins me on Friday night.
Alex is working well at home and I'm keen to crack on and get a two star under his belt. The poor horse has been unlucky at his two previous attempts with first the cancellation of Le Lion after the dressage last year and then a fall on the flat in a hole in the first water at Tatts in the Spring. Very dull for all his connections as I really believe he is a four star horse in the making.
Anyway for now the focus is the task at hand here at Weston Park – thanks to Catherine, who owns part of Alex along with the Fullers and Veronica, we have a great parking spot at Weston  – I can roll out of bed and be at Alex's stable so no excuses for me in terms of not being prompt!
Tomorrow is the trot up and then dressage for Alex will be Thursday. I'm hoping the weather holds – it's due to get much colder but I hope the rain will stay away.
Cheers,
Bill
Posted 8th October