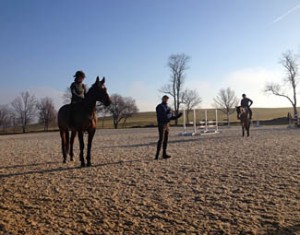 Well what a good trip to Washington – two good days of teaching and then at 10pm Sunday night, all ready to fly home and our flight gets cancelled due to a plane fault. Sadly there were lots of very upset people.
It was nice to see some new faces at this clinic and some familiar ones as well. The weather is due to get a little bit colder so it was good to get the clinic done before the weather turns. A lot of the riders were going well and, like so often, just need little tweaks to how they do things in terms of speed to fences ie realizing the appropriate speed for the certain type of fence before them. I think everyone went away with a little bit better information.
The only plus to having the flight cancelled was, rather than spend a day in a hotel near the airport, I teamed up with a fellow caught in the same situation and we caught a taxi into downtown DC and saw some great sights. It is a very beautiful city – ironically I've now seen more of DC than Jenny despite her working in the area a lot in the last couple of years!
I'm looking forward to getting home now, hoping we have a plane this evening and I can get back and on with things at Little Charingworth.
Cheers
Bill
Posted 18th November