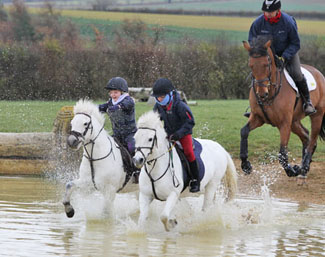 Yesterday saw me at Swalcliffe Park giving a cross country clinic – a good day was had by all. I think everyone came away having had a good time and with some pointers to take away and work on. The ground was excellent and the weather was kind – no rain and relatively mild for the time of year so all in all a successful day out.
Richard, Sarah and their team continue to make changes and improvements to the cross country facility and they have added more jumps and variety with a new ditch rail complex and more banks and steps which makes my life easier with the variety of different types of question to train with.
The day was broken up by a visit from the kids who proceeded to get Gus and me soaked by charging through the water complex – they absolutely love it as the expression on Ursula's face shows in the attached snap – thanks Fiona! So a fun day for the kids (although they left complaining they wanted to do more which I guess is a good (but worrying) sign of things to come….
Cheers,
Bill
Posted 1st December