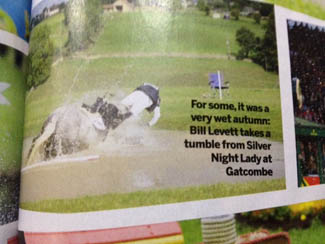 I have had my best season ever and yet I still only make the thrills and spills page in the Horse & Hound. Maybe I'll ask Santa for a media training course and make over for Christmas and see if that improves things in 2014?
Good week here at Little Charingworth with the weather still being relatively kind to us. All the horses are working well, with Cassie and Sparkles settling in. Cassie is now being ridden around the 'big school' and is taking to being ridden very well. Sparkles is settling in to the Team Levett routine.
We've been busy planning the fitness preparations for the horses to get them ready for the 2014 season. Next will be competition schedule planning and before we know it the season will be upon us.
However before that I will take the rare treat to enjoy a little extra time with family and friends at the weekends
Cheers,
Bill
Posted 6th December