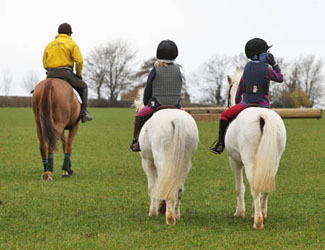 Have had a great day – with a relaxed morning at Swalcliffe, cross country schooling with the kids. I took Sparkles, who I've not schooled cross country before, and he was a complete gent in terms of coping very well with the kids charging about on their ponies AND, more importantly, he was great over the cross country fences.
He took it all on and felt very athletic with plenty of jump so I'm excited! I've just got to convince the wife that we can keep him and I can produce him! I think he's special and so am keen to try and find a way to hang on to him.
Josh and Ursula had a good time, learning and developing all the time – although I think they are not that impressed with daddy shouting instructions at them! It was nice to have Jenny and Fiona with us to join in with the fun, and it was a nice relaxed morning with no rain, little wind and even a little sun – hard to imagine it was December.
The ground was fantastic so well worth getting your xc kit on and getting out there for some cross country schooling at Swalcliffe!
Cheers,
Bill
Posted 7th December