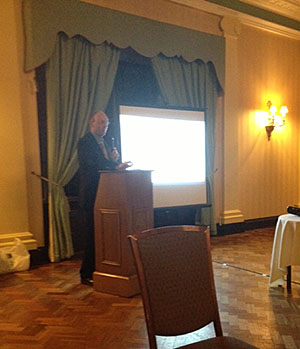 A typical day for me of riding followed by teaching ended with a very unusual evening engagement. In a moment of madness several months ago I agreed to have a go at an after dinner speaking engagement for the ACPAT annual conference.
I'm always up for a challenge and it's certainly been that. My chosen subject was to talk about my journey to date as an event rider and I spent many evenings over the last few weeks trying to construct an interesting and entertaining speech. Hampered by my lack of IT skills I painfully wrote it all out in long hand  – although potentially less painful that one fingered typing. Jenny did offer to type it out but I was stubborn and wanted to do it all myself.
Anyway suffice to say I survived with the help of a song, a few props and a generous audience – I don't think I will be taking on an alternate career as an after dinner speaker any time soon but I also didn't disgrace myself. Mission accomplished and back to the day job of riding and training horses tomorrow for sure.
Cheers,
Bill
Posted 22nd February