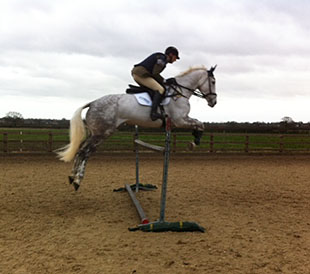 I've been at Weston Lawns today with four horses for a little pre season dressage and jumping  – the arena eventing format. I took Gus and Sparkles for their first outing with me and Silver and Dotty as the two old pros to blow some cobwebs away – which was nearly a literal reality as the wintery weather was definitely back with us today – it was incredibly windy and I'm grateful to the girls for sticking with it in very windy conditions and little shelter given we only have our little run around lorry with limited storage and no living at the moment.
Gus was doing his first ever dressage competition and was very grown up, especially given the conditions – I couldn't have been more pleased with him. He then jumped a lovely double clear and was very brave over the show jump and cross country fences. Long may his grown up attitude remain!
Sparkles was a little on his toes and pleased to be out but for his first outing with me I was very pleased with him, he's a good jumper and was also  brave and athletic.
The girls Dotty and Silver were supposed to be showing Gus and Sparkles how it should all be done BUT they were both just feeling a little too well and excited to be out and about at a party again, especially in the dressage. I'm always torn when they are a little unruly at the beginning of the year as in many respects I like the fact that they are on their toes and enjoying their job, it gives me a sense of how much they enjoy it all. They both jumped well they are fun horses to jump as (a) they enjoy it so much and (b) they are good at it!
Anyway it was good to be out and about competing and it wont be long until we are evening now, this time next week I will have completed my first event – cannot wait, even at my ripe old age I love the feeling of the beginning of the season being just around the corner.
I've got a busy week ahead with dressage lessons with Gareth, show jump lessons with Roland at Rectory and cross country schooling at Swalcliffe – so I hope the weather is kind to us. Then next weekend we will be eventing at Aston on Sunday after giving a cross country clinic at Swalcliffe on Saturday.
Cheers,
Bill
Posted 23rd February