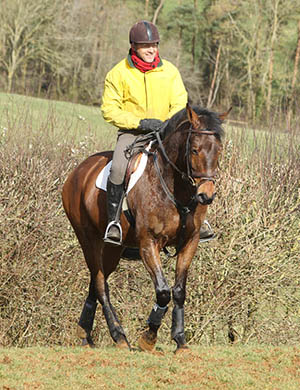 It's been a good day today – I was out on grass, cross country schooling the horses at Swalcliffe and had a good time! I've been there quite a lot this Spring but mostly helping other people, whereas today it was all about my horses! We had a good time and luckily for us Fiona, our good friend who takes photographs, was there to capture the moment along with Clare and Ann who came to watch their horses go.
Silver and Ricky were 'old pros' and both jumped around very sweetly and confidently – it is nice to get on horses which are experienced and give them a cross country school, and to feel when you are riding them that they are really enjoying themselves and that they are confident and assured in their job.
Dotty, who is younger, was delighted to be out jumping cross country fences on grass and could hardly contain her pleasure – she's always loved her jumping and in particular cross country, and today was no exception – it was fun to ride her around today as ever.
Sparkles and Gus are beginning their eventing career and this year will be a big year for them. They've been given time to date as six year olds and this year they will begin to learn their trade but without pressure. They've both done some schooling and jumping over the winter and jumped around confidently today enjoying themselves with a few green moments.
The babies of the day were Dylan and Cassie – both who've never been cross country schooling before – today was all about getting them out and about and getting their feet wet in the water and jumping a little ditch and step. Dylan was the star pupil as he was so brave and took it all in his stride. It would have been tempting to do too much with him today as he lapped it up but it's very important with a young horse not to over do it. He had a cheeky smile on his face from start to finish and didn't put a foot wrong.
Cassie was a little more of a baby, taking longer to get in to the water initially but once in she was fine and she didn't seem phased about the little ditch or step at all – she was more babyish than Dylan who was four going on fourteen, but she was a good girl. So I was thrilled with both of the first timers.
Overall I was very happy with how they all went. It was frustrating (but I feel for the organisers) to hear as we drove home that Aston has been postponed this weekend to next weekend due to the continued challenges of the weather.
I'm hoping we don't get the predicted dusting of snow tomorrow as I'm pencilled in to take Alfie, Alex, Silks and Womble for a spin at Swalcliffe to get their feet muddy and wet and I'm really looking forward to it.
Cheers,
Bill
Posted 28th February