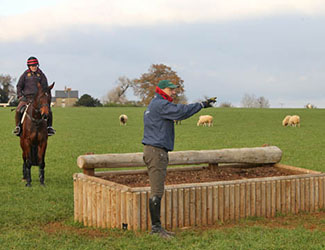 Today was a real treat – a beautiful spring day with sun shine all day! It's amazing how much easier everything is when the sun shines. I had a busy day with a meeting first thing with Prue Barrett and Chris Webb, who are the Performance Managers of the Australian Eventing programme – we have a clinic next week at the Unicorn Trust so ahead of the clinic they are visiting all of the riders at home to chat through their programmes and the  plan for 2014. It was good to catch up with them in a more relaxed environment and to talk through 2014 to ensure no stone is left unturned in terms of preparation and support.
It was then a swift turn around to head to Swalcliffe to teach a clinic for the day. It was a fun day with nice people all eager to learn and get some match practice on the cross country course over good ground while the sune shone. We had no fallers and a good day was had by all with some fun and laughs along the way. I really enjoy teaching people who are keen to learn so it was a good day for me and hopefully for them!
The day was topped off with a nice dinner at home with the Fullers, who have been long term supporters of Team Levett. It was lovely to catch up with them in slower time and to learn their news about their growing number of grand children – which provide a new series of challenges and adventures going forwards.
A lovely end to a busy day.
Cheers,
Bill
Posted 1st March