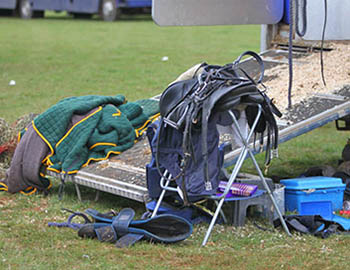 It was an early start to the day I turn 51… Off to Goring one day event with Sparkles and Gus (my 50th birthday present from Jenny and the kids!).
When the mist burnt off it turned into a beautiful day and I was really pleased with both horses. Gus jumped a double clear, running a minor place, and Sparkles went really well but rolled 2 showjumps – nothing more than baby mistakes. The ground was great and it was a really nice run for them both.
It's been a while since I've been to Goring and I remember years ago taking one of my top horses, Time Will Tell (Charlie), as a very green youngster, and having a few stops at the water. It is a really nice event for young horses, being very encouraging as there's lots of space to get your horse's eye on a fence before you have to jump it. There are a couple of decent hills on the track so in that way it's quite nice in bringing their fitness on as well.
When you only have two horses and you start early the benefit is you get home at a reasonable hour from a close event. It will be nice to spend time with the family this afternoon, once I've taken the Badminton boys for a swim!
This next month of April is nearly upon us, with lots of important competitions. Let's hope we can keep all the horses sound and well and focused on their big targeted events.
Cheers,
Bill
Posted 29th March