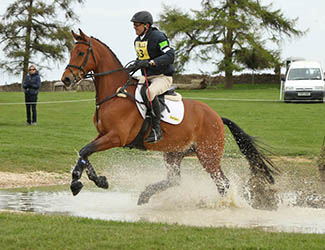 Well, it's only 12.30 and we're heading back home from Ascott under Wychwood. Happy days.
Both Gus (pictured) and Sparkles are coming on nicely, which is very satisfying as their next outing will be a step up to Novice level at Milton Keynes. So they've been round another nice little BE100 course with the ground at the moment still being near perfect. They continue to show themselves as being promising young horses with the potential to go up the grades.
Ascott Under Wychwood is a great event, with educational fences and interesting terrain and also a good viewing facility. Chris has clearly worked hard on the ground and the course, as ever, with great going and some very nice new fences and combinations – including a beautiful badger to jump which made me chuckle.
It's still busy at home with 3 heading to Weston tomorrow so I'll ride them as soon as I'm back; Silver, Dotty and Silks – along with Hayley doing the Advanced and Intermediate with Piggy and Cuppi respectively.
The good weather certainly makes everything more enjoyable, long may it, and good ground, last.
Cheers,
Bill
Posted 12th April