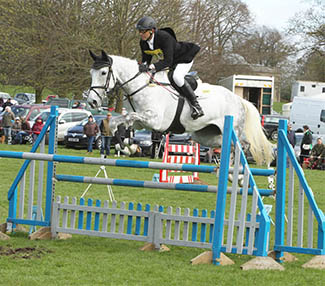 It was another fine English day today at Weston. I had Dotty and Silver (pictured) doing the Intermediate and Silks having a run around the Advanced. We also had Hayley Parker running her two horses in prep for Burnham Market 3star next weekend.
The XC courses were excellent, really beefy but inviting, encouraging the horses to go forward. With the wind and sunshine the ground on the course was pretty good. I really like the cross country tracks at Weston, and this year was no exception – they were great to ride around, educational and interesting.
The show jumping courses, however, are always the big let down, often poley but more influential is the fact that they are on the side of a hill and the ground often ends up deep – good horses can have a couple down. I wish they could find a place that stays more consistent in the going to site the show jumping.
Hayley had a great run on her two horses and it seems that all is on track so far. It is nice seeing her plans come together.
Silver went very well although she was a bit on edge when she got into the ring for dressage. Dotty went better than last time out but did not cope with the ground in the show jumping at all. She bombed around the cross country, her first intermediate, like an old pro. Dotty loves her cross country.
Silks was great in the dressage and a bit fresh in the show jumping; I should have warmed him up for longer on the flat before my show jump round. Then on the cross country I rode too fast around a corner and could not get back to the jump so Silks had an annoying and frustrating 20 penalties which he didn't deserve as it was my fault. Silks feels confident enough to go to Badminton but let's hope Burnham goes totally to plan this weekend as I wouldn't like a run like that for the last outing before the big day.
Cheers,
Bill
Posted 13th April