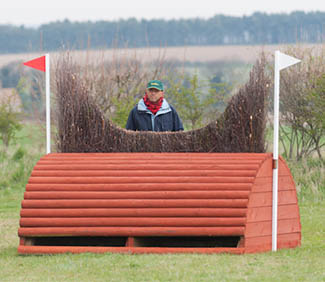 It's been a nice two days at Burnham Market with just the dressage done so far for both Hayley and me. Tomorrow will be a little more action packed with all horses jumping phases to come.
Alex was doing his first ever CIC3star and coped well to score a respectable 47 which I was really pleased with.
Womble did a good test for 44 feeling very secure and confident which was pleasing.
Alfie scored a 47 but there was a significant difference in the judges marks – 23 marks to be exact, but sometimes it goes like that.
Hayley went well with Cuppi and Piggy to score 51 and 57 respectively and there's lots of improving still to come so I'm really pleased for her.
The cross country course is a fair test with some decent accuracy questions at fence 7, 10/11 and in front of the mound which will all take some riding, but if ridden well it should be educational for the horses. There is also a bounce in to the main water by the spectator mound which should provide some good viewing for spectators.
I would like some rain for the ground but tomorrow is another day. It's threatened a few times today but the heavens haven't opened.
We shall see what tomorrow brings. It all kicks off at 11ish for me with the course walk – I'm very grateful to Equestrian Australia as Roland is able to come to warm me up and walk the course with me, which is incredibly valuable and helpful for me.
Cheers,
Bill
Posted 18th April – Photo Trevor Holt