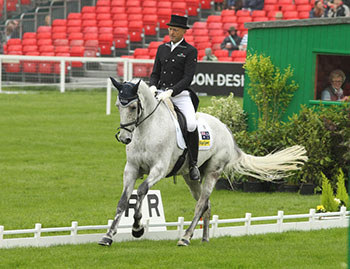 This morning was Silks dressage test and he tried very hard to score 47.8 in his first ever four star test. I was hoping for a score in the 40s and that is what we've achieved. So I'm pleased overall.
I learnt more again about the horse as I had thought he would 'come up for his test' and be brighter and a bit more on his toes in the ring, however he surprised me and was very calm and almost a little flat in the arena and so I wish I had given him less work – but as I say I learnt a huge amount about him today which I can take forward to our next competition and, as I've said before, I don't think Badminton this year will be a dressage competition!
The rest of today will be pretty busy with Alfie to work to prepare for tomorrow and a course walk with my bedding sponsor Verdo for a competition they were running.
More on the course to follow but for now there is much talk about the log mound complex at fence 18. I also think you need plenty of horse for Huntsmans Close at the back end of the course and I am a little concerned the dew ponds will be a punishing fence for the horses to jump the direct route.
So far the rain has come in fits and starts and the wind is blowing so the ground remains ok. The ground in the main arena for the dressage was perfect this morning so hopefully it will hold up ok for Alfie tomorrow afternoon.
Cheers,
Bill
Posted 8th May