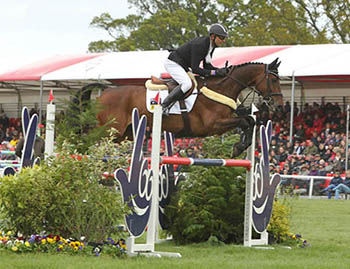 So first and foremost I'm completely delighted that Sam has won Badminton – Sam is a great mate and he absolutely deserves this win! I'm really sad for Paul and feel for him, George, his owners and team but I'm also thrilled for Lucy, Imo, Sam's owners and team. He's a great guy and Lucy and Sam run a great business and deserve this win  – go Sami!
As for my own Badminton it's not quite gone to plan – I'm trying to focus on the positives but I'd be lying if I was said I'm driving home feeling happy! As with many times in horses the highs are often followed by lows. I had a brilliant year last year but this year to date isn't quite going according to plan.
On a positive note I'm driving home with two fit and sound horses on the truck – just no prizes! I need to rethink a plan for Silks, play around with his bitting and get him out and about competing a bit more, my lesson learnt is that however much preparation I do at home I think he's a horse that needs to be out and about competing to give of his best.
In terms of Alfie he's come through the toughest four star for many years and there are many, many positives to take from him. He went as well as I could have hoped for in the dressage and went brilliantly cross country. He didn't put a foot wrong. Sadly I let him down at fence 5/6 and I was given a technical penalty of 21 for breaking a pin – I'm gutted as I feel I've let the horse down and it has a penalty it absolutely didn't deserve. However I need to pick myself up and get on to the next thing and take the positives from the round, of which there were many.
Last night and this morning both horses trotted up brilliantly and Alfie was full of himself this morning at the trot up.
The show jumping caused chaos today, partly a reflection of it being an up to height, long track on soft ground, and partly a reflection of the cross country test the horses had to go through yesterday. There was no clear round, bar Wendy Schaffer who jumped clear with 3 time penalties, and 4 fault rounds were few and far between. Alfie is usually a fantastic jumper but today wasn't our day. He didn't do anything wrong but he did have four rails down and I can't really explain why. It's just one of those things. I need to take time to analyse what I can learn from it and then put it behind me.
So onwards the team rolls – a huge thanks to Emily and Alice for their work throughout the week, I'm very grateful to them for all they've done – especially Emily who has managed both Alfie and Silks so well at home in the run up to the event. I'm also grateful to our extended support team; the two Anna's at the event, Nick our farrier, Spike and Tom our vets and of course my very patient owners Charlotte and Francis who own Silks, and Clare, Mike and Ann who own Alfie. Finally a big thanks to Team Pickles for the loan of their truck for the week.
We will soon be home, the kids are in the truck driving home with me and they help put it all in perspective.
Cheers,
Bill
Posted 11th May