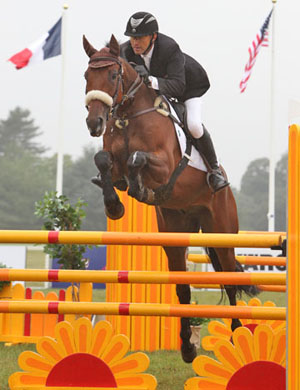 Alex and Piggy trotted up well this morning – as ever a huge thanks to Emily and Poppy for making the horses as comfortable as possible after the excursions of their cross country.
Womble jumped first thing this morning in the CIC3star and I was really pleased with him. He jumped a very good clear and gave me a good ride around the track, very rideable and with me. A clear round moved him up to third going in to the cross country.
Piggy jumped well this morning giving Hayley a good completion in the two star and continuing to build her partnership with him.
Next up was Womble doing the CIC cross country – he was pretty keen over the first half a dozen fences but I don't blame him as he's not had a run in a while and he needed to blow away the cobwebs. Once he'd settled he gave me a cracking round around the rest of the track jumping confidently which will have set him up well for Luhmuhlen. He came home with 1.2 time which left us in third place and a podium finish behind Tim Price and Millie Dumas – very pleasing.
Finally it was Alex's turn in the CCI3star. He jumped like a top, really concentrating and jumping a lovely clear inside the time – lots of people were getting time penalties so I was thrilled to jump clear and inside the time. I felt like he gave me a good ride and visa versa I him. The clear round moved us up to 10th which was a great finish. He will have learnt a lot this week and I couldn't be more pleased with him.
Alex and Piggy will now have a bit of a holiday before they focus on their summer and autumn goals. I'm now waiting to board the ferry home after a long but enjoyable week.
A big thankyou to my team Emily and Poppy, here with me at the event, and Eleanore and Kelly at home. Also to my loyal and patient owners and finally to my sponsors. I'm looking forward to a quieter week, although we have team training on Tuesday and Wednesday and dressage lessons with Gareth to set me up pre Luhmuhlen. I'm giving a clinic on Sunday to round off the week.
Cheers
Bill
Posted 1st June