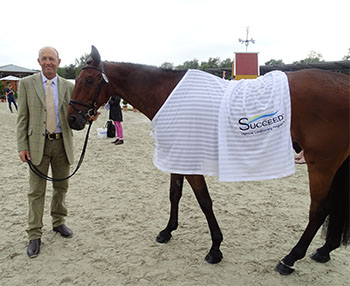 Today has been a somber day at Luhmuhlen with the devastating death yesterday of Ben Winter. The competition went ahead but with a cloud hanging over the event.
Womble was on fine form this morning and trotted up well, sailing through the inspection. It was then a fairly long wait as the show jumping didn't take place until this afternoon. The early riders in the show jumping, which went in reverse order, seemed to make light work of the track and there were several clear rounds. However this didn't last long and clear rounds then became rare as the rounds went on and we got closer to the sharp end of the competition.
To cut a long story short Womble ended up 9th – I had a disappointing three rails which is unheard of for Womble. I can only put it down to him being a little tired at the end of his first four star – he jumped many of the fences very well and I felt I rode the round I wanted to from beginning to end – so it is what it is, not one to over analyse. I'm disappointed with the show jumping but thrilled overall with how Womble has performed this week – a top 10 finish in his first four star is a great result and I'm really pleased with him. He's only 10 and has a big future ahead of him.
I am thrilled for Tim's win – he really deserves it. He and Jonelle are a great couple and have grafted on the circuit for years – I'm SO happy for him – with him and Sam cleaning up recently the winner's spot is going to some of the nicest guys on the circuit, long may it last. Wesko is a class act – ably piloted by Tim.
We now set off on the long drive home but I'm buoyed on by the arrival of my mum and dad from Australia tomorrow for six weeks.  I've thankfully got a week at home working with the horses and then next week will head to Salperton, our local event, for the intermediate and novice, which will be fun.
Cheers,
Bill
Posted 15th June