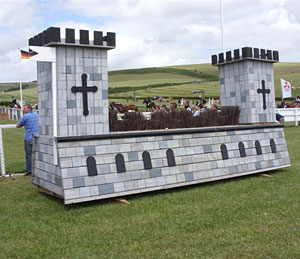 We were at Barbury today and it was another warm and sunny day of eventing. It was made much nicer by a really lovely breeze. It was one of those days where we were only doing dressage, with Dotty doing her first bigger class, a CIC2*, and Gus doing the novice.
Dotty managed to do her best dressage ever, with a lot more difficult movements in the new two star test. She was very relaxed and did herself proud. She does seem to be settling down these days and I hope this will be something that stays around in the way she goes. Dotty continues to be one of those young horses that keeps improving and I have always said she is a natural event horse. It will be fascinating to see how far she goes up the grades.
Gus did a nice dressage test as he is going better, but he still gets a little green in the ring so although he was well placed there is still much room for improvement. I had the chance to walk the novice XC and it looks very strong so both Gus and Sparkles will have to be on their game to jump a clear round. As usual the fences are very well presented, challenging the horses but also encouraging them to jump well.
Tomorrow we are back again and it will be interesting to see how both the novice boys go. Dotty on the other hand will have a rest day and is back on Saturday.
Cheers
Bill
Posted 3rd July