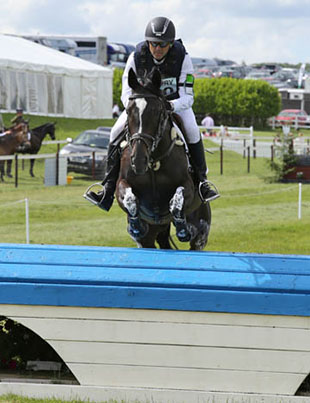 After a bit of a wet start to Saturday we got off early to the gallops before heading down to Barbury with Dotty.
By the time the afternoon came it was a really pleasant day. The show jumping at Barbury this year was in a different place to usual. It was where the dressage for some of the other classes is held. One big advantage was that it was mostly dead flat with one little addition at the end of the track, up a steep slope to jump two fences on a related line. Dotty jumped the first half the best she's jumped a round so far but she got a little unbalanced into the treble and had two parts of that down and gave the last fence the lightest of rubs to have three down in total.
Cross country for her was very up to height and the most difficult course she's had to do so far at intermediate level. There were a couple of little green moments but all in all, when she could have decided not to jump something, she always put her best foot forward and helped me out. So overall I'm thrilled with her. She did everything I asked of her and she keeps improving. I certainly feel there's lots more to come in all three phases.
Barbury seems to go from strength to strength with lots of different activities for the whole family. So Dotty seems to be heading towards her goal of doing a CCI2* this autumn and it would be nice to give her a chance at this level.
Cheers
Bill
Posted 6th July