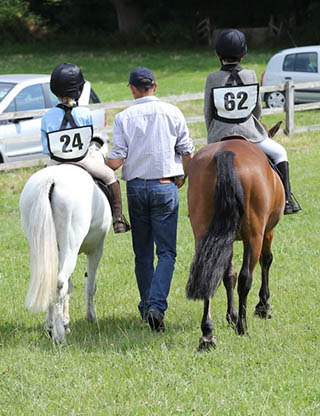 I've had a great 24 hours – a rare day off with the family and no riding on a Saturday, something to be treasured during the season.
However the day was not without horses as I went along with Jenny to help Josh and Urssie at their first one day event of 2014. It was a Pony Club event at Broadway, home to the BE horse trials. There were a lot of kids taking part and it reminded me of what a strong following horse sports have at a grass roots level in the UK.
Suffice to say Josh and Ursula both had a character building day – with the most complex dressage test they've ever had to learn and then an 80cm show jump and cross country track.
They did their best and managed to remember their dressage tests. Urssie flew round the show jumping and most of the cross country, bar the last four fences when she had a glance off with Toddy and then wasn't able to get him organised quite right to get back on to it and so walked home.
Josh rode with determination in the show jumping but CJ took exception to a filler and despite Josh's best efforts he also walked home – so not the best of days for Team Levett, however days like today are what makes us all better riders and competitors – we've all had them.
A family picnic saved the day so all was not lost!
Cheers,
Bill
Posted 26th July