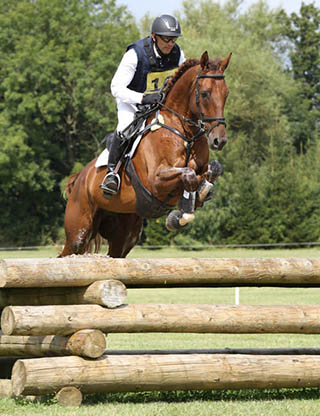 I'm just on the way home from Aston with 4 horses on the lorry. Dotty and Sparkles (pictured), Cuppi and Piggy.
All have done the intermediate today. It's amazing how quickly the ground dries out at this time of year. It wasn't hard but a few days of dry and it certainly would be. Dotty's getting more established at intermediate with a nice double clear and calmer and more secure again in the dressage – she just had one moment when someone decided to put up a sign as she was doing her test!
Sparkles did his first intermediate today and although I was really pleased with him in all phases the bigger water jump cross country surprised him and he ducked out to the side for 20 penalties. But overall he definitely feels like a horse that could go on which was really exciting. He coped well in the dressage despite it being right next to the show jumping and having a little spook as someone knocked a fence as he started out in his medium trot.
He also had a pole and a few time in the show jumping as he and I had a miscommunication going in to the treble. However overall I'm really excited about him as he feels like he's got plenty of jump and ability to go on.
Hayley came with her two horses. Cuppi gave her a lovely double clear and super ride. He seems to be getting more settled with life in the UK. Piggy, like Sparkles, is still a work in progress but today his cross country was the best yet. Hayley is giving him a great positive ride and he seems to be responding well.
I was due to be off to Hartpury tomorrow with Alfie to do the CIC3* but that appears to be on hold now with a skin infection which has popped up from nowhere this morning. Horses do drive you mad at times.
Until next time,
Cheers
Bill
Posted 7th August