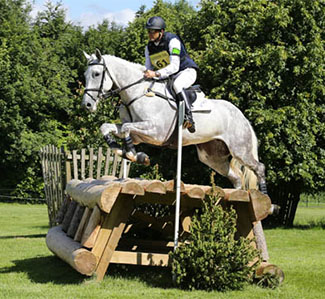 It's with VERY mixed emotions that I write this blog. Silver is going to be leaving us to move to the US. I and the team here at Little Charingworth are very, very sad to see her go as she is a firm favourite with us all. She's a joy to have around, with a lovely personality and outlook on life. Emily and crew will not miss mucking her out or bathing her – she has a reputation for being rather a 'truffle pig' in her stable but, aside from that, she is a joy to have on the yard and, for me as a rider, to work with.
Silver is moving to the US to join Finn, who we previously sold to Anita – Anita has become a friend over the last few years since we sold her Finn and I know that Silver will have a wonderful life with her. She will want for nothing alongside Finn, be much loved and continue to enjoy eventing – and may one day in the future have a foal. I will get to see her from time to time, as I do Finn, when I go to teach in the US.
Silver is owned by my longest and dearest oldest owners Carol and Veronica and I hope that even though this chapter closes another will open. Above all I have made firm friends for life with the two of them – we have been through much together over the years with the horses I've had the pleasure to ride for them. We could write a book with numerous funny stories and the odd heart breaking moment – which is so much a part of being involved with horses.
Anyway for now suffice to say Silver will be moving to the US in the next couple of weeks.
Cheers,
Bill
Posted 13th August