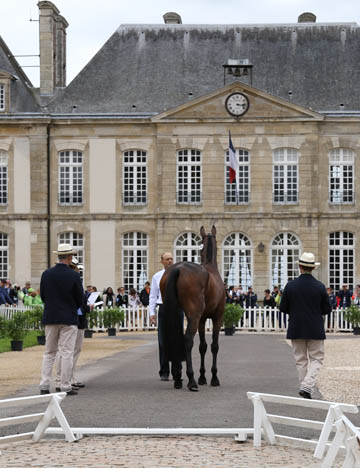 It's been a few days since I've written a blog but I hope you've been keeping up to date with things via Emily's blog…
As I write this the rain continues to fall in Normandy. I feel very bad for the organisers as it has done nothing but rain since we've arrived, which has created all sorts of challenges for them.
The horses have settled in well and have been working well. It's all coming around pretty fast. Today I schooled both horses and had a chance to ride them in the holding arena and main arena for fifteen minute sessions with my team mates. It was good to get the horses in the arena and see the tv screens etc
Trot up then took place this afternoon with both Womble and Alfie sailing through, along with all the other horses. The Ausssies then announced post the trot up who would be on the team and Stuart and I have been named as individuals.
I am on late tomorrow with my dressage on Alfie, and I'm really lucky that Gareth is able to come and help us tomorrow and he will have time to give me a hand in the morning and help me work in for my test which will be great!
I've had one walk of the course and suffice to say I don think it's going to be a dressage competition, especially if the rain keeps up – it's a big and bold track with lots of forward distances requiring attacking riding, and many fences set cleverly in the terrain, which is up and down overall, quite undulating and I think taxing for a horse.
But before that is the small task of dressage, so for now my focus is on dressage and not on galloping at speed!
Cheers
Bill
Posted 27th August