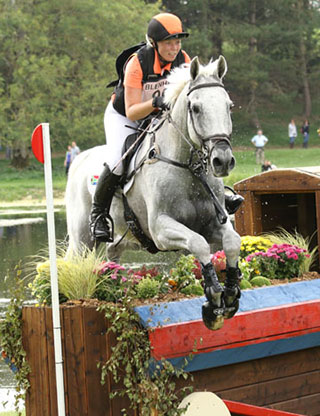 This weekend has seen me going backwards and forwards to Blenheim to help Hayley who is based with us, and also riding horses at home. Blenheim is local to us, only 30minutes up the road which is nice.
Hayley did a great job getting her four star qualification around a tough track – Cuppi gave her a good ride, bar one combination where he was hard to turn on to the second element of a combination.  Other than this they went around very well with only one hairy moment at the corner combination, which caught out several big names during the day.
I was very proud of how Hayley rode, thought Cuppi look class and that they looked like a great combination in partnership together around the track.
Cuppi jogged up very well on Sunday and then show jumped well, with again Hayley riding very well – they just touched one rail and so ended on a very good note.
All in all a successful event for them and so much more to come.
It's now time to dash home as tomorrow we are at Pontispool and we have to leave at the crazily early time of 3.00am. Let's hope the horses are on form and make the early start worthwhile!
Cheers,
Bill
Posted 14th September