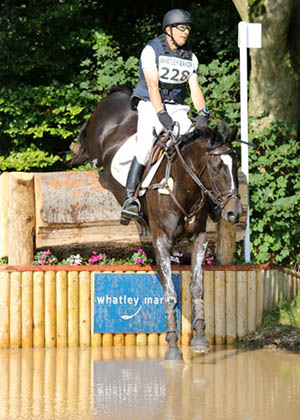 We've had a long day at Gatcombe but it was a good run for Dotty in the CIC**. She had done her dressage on Saturday so it was literally just cross country and then the show jumping today. The cross country at Gatcombe 2*, as last year, caused a lot of problems and at times just didn't flow.
I thought the water jump was particularly hard with a big drop in to a sharp left turn up a bank with some rails on top. Then back down that bank over a boat out of the water. It was one of those fences that depending on how the horse reacted and jumped over the different elements as to what striding they got to each particular element. It's what I call a bit of a fiddle and you definitely needed a forward thinking horse for it to work.
Dotty stepped up to the plate and really gave me a lovely round for only 4 time. But it certainly felt like it was mentally quite challenging for her. Let's hope that sets her up well for Weston in a few weeks time. Because the show jumping was after cross country we had to have a trot up and then we show jumped in reverse order. After cross country Dotty was in 12th place so it was a long wait for the last phase.
Dotty had two down in the show jumping which dropped her a few placings to finish 15th. The last fence she misread and got it tangled in between her front legs which was a bit unnerving at the time but overall I was pleased with how much she tried in the show jumping. Only a few weeks now until her CCI2* at Weston. I think the event this weekend will help her be prepared for the challenges that lie ahead.
Cheers
Bill
Posted 21st September