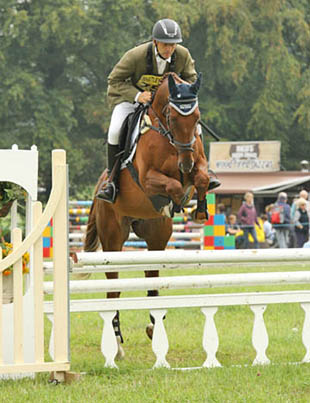 Well my final day of one day eventing is done for the 2014 season and we are home safe with all the horses. I did not run cross-country because the ground was firm enough and I thought the course just did not flow for young horses.
I was pretty frustrated with this as I wanted to run Sparkles, Gus and Moo one more time before the end of the season and it is an expensive way to do a combined training when you don't go cross country!
Anyway, all the horses are fit and well and live to fight another day. I thought all the horses went well in dressage and show jumping, Sparkles (pictured) and Gus just having one down and Gus, I think, winning the dressage.
I just have Weston to go now on Dotty before my season comes to a close. I took her to the gallops yesterday and she went up them really well; she's feeling fit for the task at hand.
It was also Eleanore's last day grooming, as in a few weeks she is finishing up to take on another job. It was nice for her to finish her time grooming for us with all the horses coming home happy and well. Eleanore has been a key player this season in keeping Team Levett on the road and we wish her well in the next stage of her career.
Cheers
Bill
Posted 3rd October