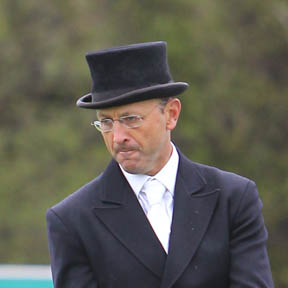 Today has been pretty productive. We had an early start to head up to Weston Park – we left our departure until the last possible moment as Weston is local to us, and Dotty lives out 24/7 at home as she is very relaxed out in the paddock. We wanted to keep her routine as 'normal' as possible for as long as possible so we decided to leave today instead of the more traditional days earlier in the week.
Also the trot up for the two star didn't take place until lunchtime today, Thursday, and then I knew I had my dressage this afternoon. So it was a productive day! Dotty settled in quickly this morning when we arrived, and we managed to get ourselves sorted in between the rain showers. It was fantastic to be able to have an electric hook up facility – it really does make all the difference, particularly in the autumnal weather when you want to be able to get out of the wet and get warm and dry!.
Dotty flew through the trot up and then we got her sorted for her dressage. It all came around very quickly but Team Levett is now like a pretty well oiled machine and Emily and I had a clear plan of how we would work Dotty in for the dressage. She was a really good girl; she doesn't find dressage the easiest and I was really pleased with her test – she kept focused and produced her best test of the season which is all you can ask for. She is still young and getting established at this level.
Post the dressage I walked the course with Vanessa while Emily gave Dotty a good long pick of grass. The ground will hold up well to the wet weather and the track is well built with some good questions all the way around. I am looking forward to riding it on Saturday afternoon.
I am heading home now to ride the other horses as I'm not on until late in the day on Saturday. I will head back up on Saturday morning post riding a few to re walk the course and ensure Dotty and I are well prepared for our cross country trip – we are fourth to go so won't have a chance to watch any go before we head out.
Cheers,
Bill
Posted 9th October