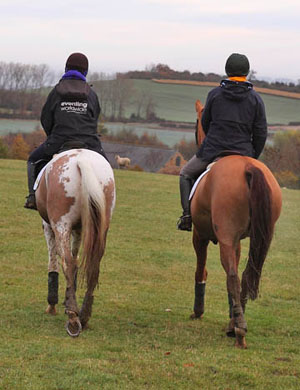 It's been another damp and windy day at Little Charingworth today – often the case at this time of year. It's a shame it wasn't a better day as would have loved to show to Jessica, visiting with us from Australia, what a beautiful country the UK is and a lovely place to train! Jessica is over in the UK having a look at what's what in the UK eventing scene.
She won Adelaide in 2014 on her little stock horse so has lots of talent and ambition to match. It was nice to have her with us for the day and learn more about her, and she kindly rode a few horses out with me, hacking up and down the hills of the Cotswolds which was great, despite the weather. Hopefully we will see her back on our shores again soon in the UK.
We have more Aussie visitors tomorrow, with my sister and her family arriving for a few days as part of a European road trip that has been many years in the planning. It will be really nice to catch up with them as we missed them in Australia, and the last time they were here with us in the UK was 10 years ago! So it will be fun to have them back with us for the weekend, and extra nice as they can help us celebrate Josh and Ursula's 10th birthday!
Cheers,
Bill
Posted 8th January