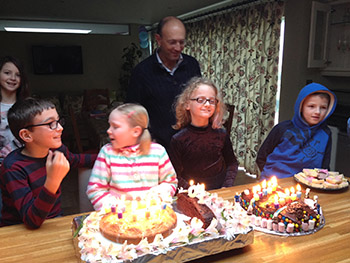 It's almost impossible for me to get my head around where on earth the last ten years have gone, or to imagine that Josh and Urssie are 10 today but they are! Double digits for our two miracle babies/now young people and very much people in their own right!
We've had a lovely weekend being able to share the celebration of their birthday with friends and family from the UK and Australia. We have been blessed to have Josh and Urssie's Australian god parents (and my sister/brother in law) staying with us – as part of a European trip they are doing with their kids, so we were able to have them share in the celebrations with us; very apt given they last visited like this 10 years ago for the christening.
Ironically, as is typical of our life, I was showing horses to potential buyers 30 minutes before everyone was due to arrive, so I'm thankful to my long suffering wife and our lovely friends and family for helping make sure all was taken care of while I stood out in the cold in wet and blustery conditions, showing and riding horses – the circus of an eventer's life stops for very little!
Finally a special mention to Sal, my sister, for her creative skills in making a chocolate horse head for the kids birthday cake (see picture!) – think it would have failed any vetting but definitely passed the taste and artistic tests!
Cheers,
Bill
Posted 11th January