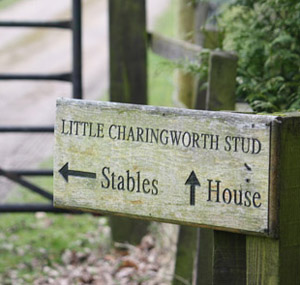 As ever there is never a dull moment at Little Charingworth. This week we've experience the full spectrum of weather that this wonderful country can throw at us during winter months, snow flurries, hail storms, torrential rain, howling winds, and glorious winter sunshine and clear blue skies! So it's certainly been varied – I'm not sure quite what our Australian and Canadian  members of the team have made of it all; the only thing that is certain is that it is nothing but!
I've enjoyed stepping things up a little this week, with my dressage training restarting in earnest with Gareth after the Christmas break and the horses continuing with their core fitness programmes – Emily and the team have done a great job tidying, clipping and trimming all the horses and they are looking smart and gleaming in their coats, thanks to the great TLC they receive from the team coupled with our management system which, underpinned by Topspec and Succeed and great haylage fed adlib from Garry Hickmann, means our horses experience fine dining every night of the week – oh to be a horse………
We have some changing faces at Team Levett with Phoebe leaving us and off on her travels again before heading back to Oz in a few short months. Nicola and Laura have joined the team. Nicola is on work placement with us from College to learn more about the goings on in a professional eventing team. She is gaining an insight in to the management and fitness programmes of the horses and learningthe ropes in working as part of a team – team work is critical to what we do and so it's a good insight in to working in a yard environment, to go alongside what someone would learn at College.
Laura has joined us from Down Under  – she had previously worked with horses alongside her studies in Australia and we are grateful to have her with us this year. She will also get a different perspective seeing eventing first hand in the Northern Hemisphere, which differs so much from eventing in Australia and NZ.
I'm off this afternoon to have a fun time with the family as we help Josh celebrate his 10th birthday with a Laser Battle party at Edgehill. We get to run around in a muddy forest for several hours in 'combat' with a dozen or so of Josh's friends – the sun is shining and so I'm sure we will all have a great afternoon; I for one know I will be being a big kid again.
Cheers,
Bill
Posted 18th January