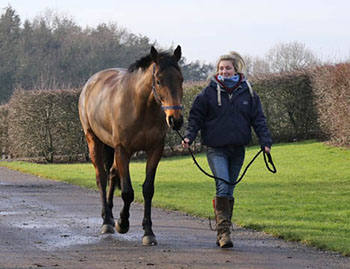 A wet and cold day at Hunters today. It was nice to see some familiar eventing faces out doing some dressage before the season kicks off in a couple of weeks, with most riders horses looking on the fresh side.
We had an interesting lorry load, with Dylan, Tonto and Drax out for their first competition. We also took along the more experienced Dotty and Alex.
Tonto and Dylan will need a good few months to get organised so they can be competitive in dressage. They both concentrated really hard but found the new environment and other horses all very distracting and there were a lot of whinnies and calling to their mates in their tests.
Although Drax is relatively experienced he still has a few gaps in his training and, like the babies, he will need a few months to consolidate. Days like today just confirm what we already know and how we need to target their training on the flat.
It was nice to have Dotty and Alex out too as they are just more established in the basic way of going, although they were still fresh and have to settle quite a bit more to be in the rosettes. Laura came out today for her first bit of competition grooming, although for an Aussie it probably wasn't much fun standing out in the rain! We've promised her the weather will get better as the spring comes in, which we're all looking forward to.
Cheers
Bill
Posted 13th February