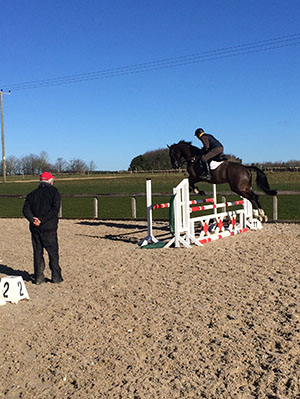 A nice crisp day with the sun shining at Rectory for the first session this year.
We have a little system in place now that works quite well, and in a couple of hours we can get a lorry load all jumped. The horses that competed last season look like they are continuing to improve which is pleasing. It certainly makes a difference when the sun shines as it turned into a beautiful day onced we jumped the first.
It's good to get Ziggy out and feel what he's like round a proper course of jumps, and it seems to me he will be the sort that will keep improving all year. We're going to take them for a bit of cross country schooling soon and I'll be fascinated to see what he feels like across the natural fences. Alex enjoyed himself, he's certainly pleased to be out and about getting back into the swing of things and feeling well in himself.
Womble has now had his first proper jump round a decent course and his next outing will probably be out to a proper show next week to get round some dressed up tracks. Dotty jumped well today, it's the phase she finds most tricky, but I think if she continues to relax and not rush at the fences she will give a good account of herself around the bigger tracks.
Sparkles took a turn on the lorry today for his first outing of the year and he was very well behaved. He feels like such a nice event horse, with a lot of quality and ability to want to take you forward. He certainty will go up the grades to advanced/3*. It won't be long and he will be heading to his first CCI, and hopefully this year he will do a 2*.
Today has a real sense of spring about it, which has been a long time coming! It's particularly nice as yesterday I rode most of the day in the rain and then had a couple of cross country lessons to give at Swacliffe. It has some of the most amazing ground, I've been up there a few times this week and, certainly in this area, there are few places you would be able to go and school your horses on grass at this time of year. It's so useful to have a place like that on your doorstep.
Cheers,
Bill
Posted 17th February – photo Emily Littlejohn