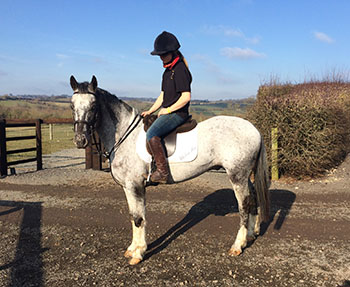 I've been rather tardy on the blog writing in the last week or so as we have all had our noses to the grindstone with ongoing pre season preparations. The weather has been making life tough over the last week or so and I commend our wonderful team here for battling on through the elements.
We've had bitterly cold weather and all sorts thrown at us on a daily basis, with huge variety – be it sun, hail, rain, snow, and high winds, all within the space often of a few hours! This coupled with the odd power cut in the high winds has tested the mettle of the team but they have done a stirling job and I'm very proud of their ongoing enthusiasm and commitment – thank you.
The horses all seem to be doing well and their pre season preparations are going to plan so far – we are back in to our regular trips to the gallops with the older horses and the younger horses are enjoying outings to do some show jumping, cross country schooling and hill work on the nearby estate – we are really lucky to have some wonderful hacking and hills on our doorstep.
The season will be upon us before we know it, with team training for much of next week at the Unicorn Centre in Stow and then our first event for the babies at Aston. Then all the eventers in the yard will have an outing, all being well, at Oasby the week after. Let's hope the weather decides to be kinder to us, and in particular that it stops raining! Everything is pretty saturated at the moment and I would hate any of the early season events to be cancelled as we all know how much effort and hard work goes in to making these events happen, months in advance, from countless people many of whom are volunteers.
We have an exciting new member of the team, aptly named Aussie (Uncle Austin). He is sadly too small for me but Urssie and Josh are having lots of fun helping Jenny to 'train him'. Like most of our ponies he has come to us from Kate and her family who have a great eye for kind and talented ponies. We shall see how Aussie progresses and most importantly have fun along the way.
I'm at Ely Eventing this coming Sunday giving a clinic – I hope the weather is kinder than last weekend at Swalcliffe. Despite the weather we had a very productive time  – the ground is amazing there, draining very well and it 'takes the rain'. Those that made it to the clinic had a good time by all accounts and despite the rain and cold lots of laughter and fun was had by all, including me – despite not being able to feel my hands to drive home by the end of the day; I had to defrost them on the car heater before attempting to drive!
Cheers,
Bill
Posted 24th February