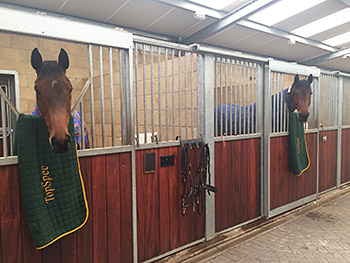 This week has seen us at team training with my fellow Aussie team mates. We have had a full schedule which has had lots of stuff within it, including dressage test practice in a competition environment, show jump lessons and riding through show jump rounds – again in competition environments. Full MOTs for horses and also lots of interesting speakers and team based discussions. It's not only the horses who have been put through their paces; I have also had various sessions to see where I'm at with my own personal preparations for the 2015 season and the road to Rio. As I say, lots of interesting things to do and experience, and plenty of laughs along the way.
Today we went show jumping at Paul and George Tapners new all weather arena, which is a great facility. We then went back to Unicorn for a video review of our rounds. I was able to take four horses to the jumping clinic, Sparkles, Dotty, Womble and Alfie. It was treated as a show so it was warm up, go in and jump your round. It was a worthwhile exercise, with all the horses jumping well.
The days are busy and the programme seems like it is really taking shape leading into Rio. It is great to have the support and structure to try and push forward.
I'm looking forward to getting home now and being with the family, only one more day to go.
Cheers,
Bill
Posted 3rd March