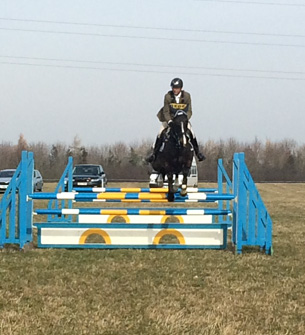 Well the first of three days at Oasby was a success! We had Ziggy, Alex, Sparkles and Drax all out doing the novice. The main excitement today was having Drax out to his first competition in the UK. He has so much potential and we knew from the start that he is going to be a horse that needs a bit of time before we reap the rewards of this.
Sparkles on the other hand put his best foot forward and is our first winner of the 2015 season! While Sparkles did win, Ziggy could have been close behind in second as he did a nice test, and a clear showjump round, but with our partnership still in early days we decided not to run him too quickly today. However I don't think it will be long before he has his first win as the dressage judges seem to like him and the jumping phases really seem to be falling into place.
Alex, on the other hand, hasn't been out since Tatts 2014, and he was very pleased to be back out and doing the job he loves. He did jump the best out of everyone today but was unlucky to roll the first pole.
We have two more days up at Oasby, tomorrow the older boys have their first outing, and on Sunday the babies and Jenny and Ricky have another day out. I think the courses are all what they should be for the different levels and it being the beginning of the season. Each course is asking enough questions but there are also a good few let up fences, which I think will definitely set them up well and get them back in the groove before tackling some tougher tracks. Surprisingly for this time of year the ground was firm enough in places; they have aerated the harder parts of the back ends of the track, but the first part of the intermediate looks like it will ride really well.
It was nice to have Christina's family over from Canada, come and see what their daughter is up to this year, and I think they are planning a few days together seeing a bit of Europe before they go home. I wonder if tomorrow Dotty, Alfie and Womble will be sensible or excited to get out again. Time will tell!
Cheers,
Bill
Posted 12th March