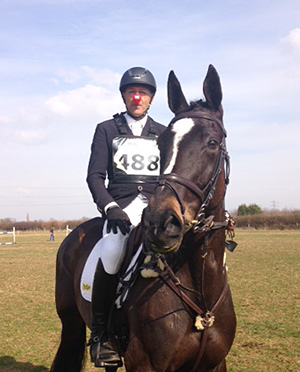 Just driving home after day two at Oasby and we had our two more experienced boys out, Alfie and Womble, as well at Dotty, all doing an intermediate run. They were all quite fresh and keen to be out but Womble took the prize for being the most ridiculous in the dressage! As soon as he heard the tannoy he just got excited and wasn't able to calm down and do a sensible test. He did redeem himself in the jumping phases by giving me a nice ride and a double clear. Alfie, on the other hand, although he was feeling fresh, behaved himself, doing a nice test and double clear. He was fifth when we left, but today was just about giving him a nice first run back into the season.
Dotty continues to give me a much better feel on the flat now, being able to hold her balance a lot better, so the marks are certainly becoming more competitive in that phase. Sadly she still gets a little quick at her fences in the showjumping but I'm hoping with time she will settle a bit more and then she will get her clear rounds, today she had a few rails. Cross country she was as good as any of the three, and she is definitely a horse that enjoys cross country and will be good at this phase as the tracks get tougher. When we left home, it was really heavy rain and we were anticipating arriving at Oasby and spending the day competiting in similar conditions. Thankfully the rain didnt follow us there and it was another bright day.
The intermediate course in reflection probably didn't flow as nicely as a good course does; there seemed to be a lot of very straight forward fences and then two or three combinations which gave the sense of going from nought to ninety. Still, we had our older guys there and got the job done. Hayley also had her hands full with a very exuberant Cuppi, but he too jumped a lovely double clear, and like ours seems to have kicked off the season well. Back on Sunday with the real babies, we are definitely off and running now.
Cheers,
Bill
Posted 13th March