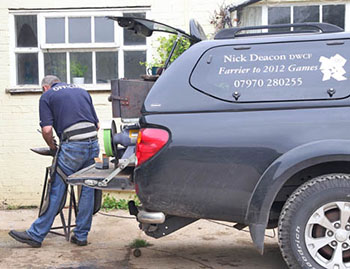 This week has been one of continuing the focus on training after a marathon four days last week with every one of the eventers having a run last weekend at Oasby.
Overall I was pleased with how all of them went – as is often the case at this time of year (or actually most of the time!) there are things that don't go to plan and areas for improvement e.g., Womble and Drax being rather too pleased with themselves being out at an event again and both being unable to contain themselves in the dressage. However by and large they put their best foot forward, and it was nice to be out and about with them all, despite the bitter wind that blew in at Oasby!
It will be interesting to see how the horses develop this season and progress.
This week the horses have all had physio check ups with Maggie post their runs, and Nick our team farrier has been in the yard as is usual each Monday. We are lucky to have had a hugely consistent team for more than ten years, with both Maggie and Nick playing a key role in helping to keep the show on the road. I take a lot of confidence from their expertise, alongside the veterinary help we receive.
I've also been continuing the fitness plans for the older horses with trips to the gallops, dressage lessons and an outing to Rectory Farm for a combined training competition – so as ever there is lots going on, but all good and I'm feeling positive about the season ahead.
I'm looking forward to the spring coming and staying with us as the warmer days with more light definitely make it easier, especially for my hard working team but also I think the horses enjoy the sunshine – especially when the spring grass comes through.
This weekend I'm down in Devon giving a clinic at Coxleigh Barton and having a rare day off on Sunday – the last until the end of May, so I plan to enjoy it! Next week we are at Stafford with the babies on Friday and then at Gatcombe for the weekend with the older horses.
Cheers,
Bill
Posted 20th March