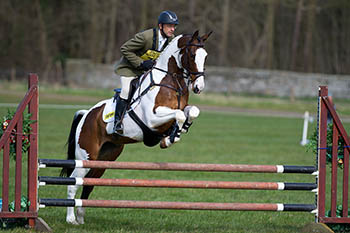 It was good to have the babies out again today, this time at Stafford, and the organisers have certainly put a lot of effort into creating a nice event for the lower levels. They had quite a bit of rain in the area on Wednesday and in the dressage warm up it was very easy to pull a shoe, which unfortunately Dylan did! There were also some patches on the cross country course which got pretty deep.
Cassie, Dylan and Tonto are still quite green in all three phases but they are definitely continuing to improve. They are showjumping much better; Cassie jumped a lovely clear and the boys were very unlucky to have a rail each. Compared to the weather we were jumping in yesterday at Weston Lawns today was much more enjoyable.
The cross country course, for a BE90, I though was quite challenging. There was one line on the course from a log to a step to a log, which didn't really flow and wasn't that encouraging for a young horse. There were also two or three other combinations which were challenging for a 90 class, but they flowed more freely and I thought were a fairer test and a great education for the horses. Our guys will probably do another 90 before they step up and do some 100s. I said I would probably never do 90s, but it is a nice introduction for horses who are very inexperienced and green.
It's good to be not too late home tonight either, as we have two full days at Gatcombe this weekend with the older horses. Let's hope the weather holds out and we get reasonable conditions.
Cheers,
Bill
Posted 27th March – Photo © Paul Moss