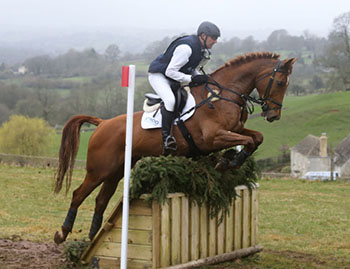 What a difference a day makes! Yesterday we were in the sunshine at Stafford, today we had a miserable, wet, cold day at Gatcombe. Today saw Ziggy, Drax and Alex at Little Gatcombe doing the novice class, although Alex (pictured) did the intermediate novice.
Ziggy again impressed the dressage judges, even with a moment of confusion between us where he struck off on the wrong leg. He creates a lovely picture and fills the eye, and the dressage judges really want to give him marks – it is always really nice to be riding a horse like this.
Drax continues to slowly get more relaxed, although he did get quite tense on the last centre line. I feel there are so many changes for Drax at the moment i.e. his schooling systems and getting ridden by a man not a girl. I just need 12 months work with him to properly change his way of going to a way that suits me, but I am already very connected with him so with a quiet 12 months he will begin to realise the potential I think he has.
During the course of the morning the rain came down and continued all day, with the odd patch where it would ease off. The showjumping was causing a few problems and for us Ziggy was a little fresh and had one fence. Where Drax is still proving difficult is in allowing me to give him a nice ride to the fence, so until he starts to relax he will continue to make it hard for himself.
Alex on the other hand, who I have had since a 4/5 year old, gave me a nice ride in all three phases. He had a rail in the show jumping, which I can only put down to the fact that he hasn't jumped out of mud that much this year and he was a little quick over his fences (which I think is due to early season exuberance), but he was concentrating and trying really hard to jump clear. I didn't even realise I had the rail until I came out of the ring.
Anyway, part of producing horses is to get them out and compete them, whatever the weather. I think on reflection today was beneficial for them all, there's more rain due tomorrow and so they have already cancelled the Sunday classes which is a shame for Alfie, Womble, Dotty and Sparkles. But probably better to cancel now than at 7am tomorrow morning when we are all packed and on the road to Gatcombe.
Until next time,
Cheers,
Bill
Posted 28th March